La Call of Duty World League Championship si svolgerà tra una settimana esatta e gli otto gruppi dell'evento sono stati appena assortiti.
L'evento si svolge a Orlando, Florida, a partire da mercoledì 9 agosto, e vede la partecipazione delle 32 migliori squadre di Call of Duty che si contendono la palma di miglior team di CoD, ma anche un bel gruzzoletto: il prize pool, infatti, è di 1,5 milioni di dollari (suddivisi tra i vari classificati).
Il vincitore avrà diritto a 600.000 dollari, il secondo posto vale 200.000 dollari e gli ultimi team che raggiungeranno un posto in classifica utile al conseguimento di un premio in denaro avranno diritto a 15.000 dollari. Nelle tabelle sottostanti potete vedere la completa ripartizione dei premi del campionato mondiale di Call of Duty.
Come per gli altri eventi della CWL, si potrà assistere alla maggior parte (se non a tutte) delle partite in live streaming sia sul canale ufficiale Twitch di Call of Duty o sul canale MLG.tv di Call of Duty.
Call of Duty World League 2017: ecco i gironi
Dal 9 al 13 agosto andrà di scena a Orlando, in Florida, la Call of Duty World League 2017. Il torneo vuole determinare i campioni del mondo della stagione in Call of Duty: Infinite Warfare. Nell'edizione 2016 la vittoria andò a EnvyUs, ma si giocò con il capitolo Black Ops III della serie Activision.
Si sfidano 32 team raggruppati in otto gruppi da 4. I match si giocheranno in modalità 4v4 e la console prescelta sarà la Playstation 4. Qui di seguito potete vedere la tabella con gli otto gruppi: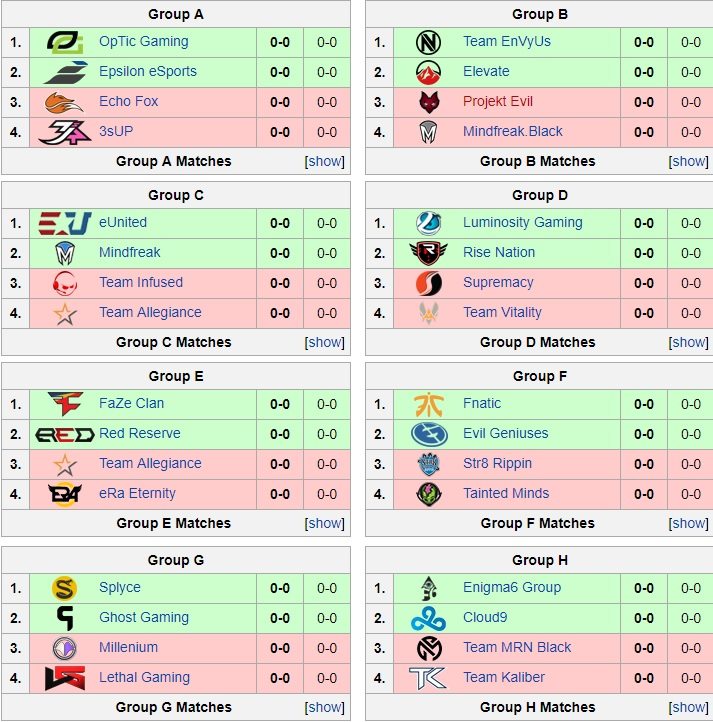 Selezionati anche i roster di ogni singolo team:
Group A
OpTic Gaming
Seth 'Scump' Abner
Matthew 'FormaL' Piper
Ian 'Crimsix' Porter
Damon 'Karma' Barlow
Epsilon Esports
David 'Dqvee' Davies
Stephen 'Vortex' Allen
Billy 'Hawqeh' Harris
Joshua-Lee 'Joshh' Shephard
Echo Fox
Anthony 'Methodz' Zinni
Tanner 'Mosh Clark
Mike 'MRuiz' Ruiz
James 'Replays' Crowde
3sUp
Steve 'Mochila' Canle
Michael 'Swarley' Carter
Cole 'CholeChan' Chancey
Anthony 'DraMa' Padilla
Group B
Team EnVyUs
Jordan 'JKap' Kaplan
Austin 'SlasheR' Liddicoat
Johnathon 'John' Perez
Bryan 'Apathy' Zhelyazkov
Elevate
Zach 'Zed' Denyer
Josh 'Watson' Watson
Jordan 'Reedy' Reed
Ben 'Desire' Wright
Projekt Evil
Jay 'Prophet' Nicoletti
Ethan 'FA5TBALLA' Wedgeworth
Christopher 'ProFeeZy' Astudillo
Seth 'Glory' Donskey
Mindfreak Black
Jake 'Hopey' Hope
Jayden 'Setzyy' Hewitt
Mark 'Zepa' Zepackic
Kainen 'Swiftaz0r' Kini
Group C
eUnited
Justin 'SiLLY' Fargo-Palmer
Alec 'Arcitys' Sanderson
Preston "Prestinni' Sanderson
James 'Clayster' Eubanks
Mindfreak
Mitchell 'BuZZO' Mader
Conrad 'Shockz' Rymarek
Lincoln 'Fighta' Ferguson
Denholm 'Denz' Taylor
Team Infused
Deleo 'Zerg' Devitt
Nick 'Nolson' Nolson
Niall 'Niall' Sunderland
Alex 'Alexx' Carpenter
Lethal Gaming
Robert 'JuJu Lamkin
Nick 'Hate' O'Conner
Jesus 'HumanJesus' Hernandez
Brett 'KlinK' Kovach
Group D
Luminosity
Renato 'Saints' Forza
Nicholas 'Classic' Di Costanzo
Josiah 'Slacked' Berry
Sam 'Octane' Larew
Rise Nation
Daniel 'Loony' Loza
Ulysses 'Aqua' Silva
Brice 'Faccento' Faccento
Tyler 'FeLonY' Johnson
Supremacy
Brandon 'Vortex' Gomes
Tommy 'Eazy' Besse
Eddy 'Malls' Maillard
Cédric 'TonyJs' Ruault
Team Vitality
Wailers 'Wailers' Locart
Shane 'ShAnE' McKerral
Connor 'Weeman' Chilton
Brian 'Braaain' Fairlamb
Group E
FaZe Clan
Ian 'Enable' Wyatt
Thomas 'ZooMaa' Paparatto
Dillon 'Attach' Price
Pierce 'Gunless' Hillman
Red Reserve
Joseph 'Joee' Pinnington
David 'Urban' Marsh
Sean 'Seany' O'Connor
Rhys 'Rated' Price
Allegiance
Austin 'Believe' Smith
Dakota 'Nova' Williams
Mehran 'Mayhem' Anjomshoa
Tristan 'Spoof' Green
eRa Eternity
Liam 'Carbines' Ryan
Ehsan 'DREEALL' Javed
Frank 'VerdicT' O'Sullivan
Arthur 'Zayrox' Chabas
Group F
Fnatic
Tom 'Tommey' Trewen
Matthew 'Skrapz' Marshall
Bradley 'wuskin' Marshall
Gurdip 'SunnyB' Bains
Evil Geniuses
Anthony 'NAMELESS' Wheeler
Colt 'Havok' McLendon
Jared 'Nagafen' Harrell
Christopher 'Parasite' Duarte
Str8 Rippin
Richard 'Ricky' Stacy
Jeremy 'StuDyy' Astacio
Brandon 'Dashy' Otell
Donovan 'Temp' Laroda
Tainted Minds
Giancarlo 'Nimble' Vagnini
Hayden 'Damage' Handakas
Daniel 'Swifty' Hickey
Cody 'Excite' Rugolo
Group G
Splyce
Ben 'Bance' Bance
Jordan 'Jurd' Crowley
Dylan 'MadCat' Daly
Trei 'Zer0' Morris
Ghost Gaming
Michael 'SpaceLy' Schmale
Andres 'Lacefield' Lacefield
Chance 'Maux' Moncivaez
Devin 'LlamaGod' Tran
Millenium
Mark 'MarkyB Bryceland
Adam 'Peatie' Peate
Tom 'Moose' Handley
Shea 'OwiKeR' Sweeney
Team Kaliber
Dylan 'Theory' McGee
Nick 'Happy' Suda
Jevon 'Goonjar' Gooljar-Lim
Lamar 'Accuracy' Abedi
Group H
Enigma6
Jordon 'General' General
Kade 'Kade' Jones
Nicholas 'Proto' Maldonado
Matthew 'Royalty' Faithfull
Cloud9
Adam 'Assault' Garcia
Patrick 'ACHES' Price
Preston 'Priest' Greiner
Xotic John 'Xotic' Bruno
Team MRN Black
Koen 'Benji' Haakman
Aleksi 'GefKid' Viitala
Laurens 'Subsist' Schuurmans
Emil 'Yohanson' Johnsson
Rogue
John 'Johnny' Cookson
Casey 'Pandur' Romano
Adam 'GodRx' Brown
Steven 'Stamino' Damiano
Vi ricordiamo che la Call of Duty World League 2017 si giocherà dal 9 al 13 agosto.
fonte: pvplive