Farpoint è disponibile da oggi su PlayStation 4, giocabile tramite il visore per la realtà virtuale PlayStation VR. Lo sparatutto avrà dei trofei, che sono stati svelati tramite il sito PlayStation Trophies.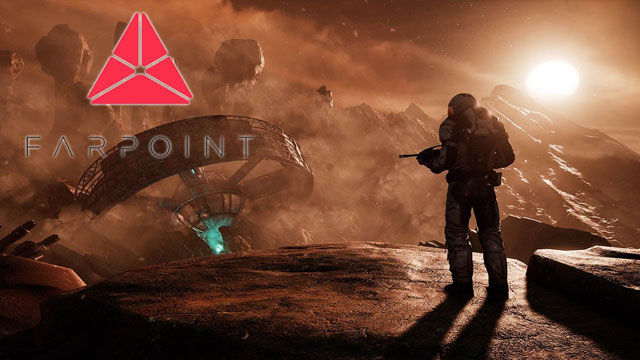 In tutto Farpoint includerà ben 47 trofei, divisi in: 34 trofei di Bronzo, 9 trofei d'Argento, 3 trofei d'Oro ed 1 trofeo di Platino.
Ecco la lista completa dei trofei condivisa tramite il sito:
Mastery of Space and Time
Acquired all Trophies for Farpoint.
It's All in the Reflexes
Shoot 100 jumping spiders out of the air.
Target Practice
Shoot 50 Goober Balls out of the Air.
Not an Environmentalist
Destroy 50 'Space Onions'.
You Want a Piece of Me?
Kill 50 enemies with the Assault Rifle.
Up Close and Personal
Kill 50 enemies with the Shotgun.
Sniper Reporting for Duty
Kill 50 enemies with the Precision Rifle.
Feels All Tingly
Kill 50 enemies with the Plasma Rifle.
Acupuncture
Kill 50 enemies with the Spike Gun.
Lobotomizer
Kill 25 Grunts with Head Shots.
Scanny McScanface
Discover and scan 50% of the holograms.
Scan Master
Discover and scan all of the holograms.
Rocket Ranger
Land 3 rockets on 1 enemy within 1 second.
Skewered
Kill 3 targets with one Precision Rifle shot.
Thread the Needle
Kill 4 targets with one Spike Gun blast.
Feel the Powah
Kill 10 enemies with a bounced shot from the Plasma Rifle.
Right Time, Right Place
Kill 3 different enemy types with one rocket.
Right Back at Ya
Kill a Rocket Drone with its own rocket.
Have You Done This Before?
Kill 100 enemies without dying
That's Some Good Shootin'
Kill 100 enemies in Cooperative mode with 70% accuracy.
Better With Friends
Complete a Cooperative level.
You Owe Me One
Revive another player in Cooperative play.
Survivors Never Die
Finished all levels of the main game.