IL NUOVO CAPITOLO DI THE LAST OF US È ALLE PORTE!
PER NON PERDERE LA DATA DI USCITA E LE INFORMAZIONI SU THE LAST OF US 2 CLICCA QUI
Naughty Dog ha vinto oltre 200 premi come miglior gioco dell'anno. Testate autorevoli come The Daily Mirror e USA Today hanno premiato il gioco Naughty, ma questi sono solo alcuni dei riconoscimenti. Potete leggere la lista completa di seguito, come vedete l'elenco è veramente sterminato.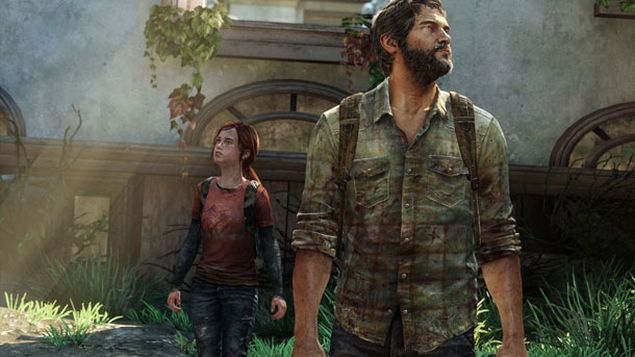 IBTimes (US) : The Last of Us

Contactmusic.com (US) : The Last of Us

Gamereactor Sverige (SE) : The Last of Us

IT News Africa (ZA) : The Last of Us

ABC Good Game (AU) : The Last of Us

Examiner.com (US) : Grand Theft Auto V and The Last of Us

eGamer (ZA) : The Last of Us

eGamer Community Choice (ZA) : The Last of Us

GuySpeed (US) : The Last of Us

Cheat Code Central (US) : The Last of Us

Redactia 4 fun (RO) : The Last of Us

The Inquisitr (US) : The Last of Us

entertainment.ie (IE) : The Last of Us

The Daily Mirror (UK) : The Last of Us

Leviathyn (US) : The Last of Us

Kotaku Australia Readers' Choice (AU) : The Last of Us

ALT1040 (ES) : The Last of Us

G3AR (ZA) : The Last of Us

Tom's Hardware Readers' Choice (IT) : The Last of Us

Arcade Sushi (US) : The Last of Us

Tom's Guide (US) : The Last of Us

GamesRadar (US) : The Last of Us

GamesRadar Readers' Choice (US) : The Last of Us

TechCentral (ZA) : The Last of Us

IMPACTO (MX) : The Last of Us

KSalue (KW) : The Last of Us

Fyens.dk (DK) : The Last of Us

AskMen (AU) : The Last of Us

Freakin' Awesome Network Readers' Choice (US) : The Last of Us

Game Revolution (US) : The Last of Us

BT (UK) : The Last of Us

Amazon (US) : The Last of Us

The FAT Website (AU) : The Last of Us

TechTudo (BR) : The Last of Us

Mashable (US) : The Last of Us

Gamekult Readers' Choice (FR) : The Last of Us

The Ledger (US) : The Last of Us

VG Nett (NO) : The Last of Us

The New Zealand Herald (NZ) : The Last of Us

The Midland Reporter-Telegram (US) : The Last of Us

Canada.com (CA) : The Last of Us

Yahoo Games (US) : The Last of Us

GameSpot Readers' Choice (US) : The Last of Us

SPACE – InnerSpace (CA) : The Last of Us

Contra Costa Times (US) : The Last of Us

Gamereactor GRTV (UK) : The Last of Us

SquabbleBox.co.uk (UK) : The Last of Us

3 News (NZ) : The Last of Us

MTV (US) : The Last of Us

UPROXX (US) : The Last of Us

WhatCulture (US) : The Last of Us

Meristation Readers' Choice (ES) : The Last of Us

Chunk.ie (IE) : The Last of Us

E! Online (US) : The Last of Us

VGU.TV (US) : The Last of Us

VGU.TV Readers' Choice (US) : The Last of Us

New York Daily News (US) : The Last of Us

Bn DeStem (NL) : The Last of Us

Reviews on the Run – Rocket & Raygun Awards (US) : The Last of Us

LevelUp (MX) : The Last of Us

IGN Australia (AU) : The Last of Us

Guardian Liberty Voice (US) : The Last of Us

Gameswelt (DE) : The Last of Us

New England Gamer (US) : The Last of Us

Gearburn (ZA) : The Last of Us

De Morgen (BE) : The Last of Us

YourTechReport.com (US) : The Last of Us

GamingBolt (IN) : The Last of Us

Hardcore Gamer (US) : The Last of Us

The A.V. Club Readers' Choice (US) : The Last of Us

VidaExtra Readers' Choice (ES) : The Last of Us

Stevivor (AU) : The Last of Us

Stevivor Readers' Choice (AU) : Bioshock Infinite and The Last of Us

IGN Sverige (SE) : The Last of Us

GameMAG (RU) : The Last of Us

Hey U Guys Gaming (UK) : The Last of Us

4Gamers Readers' Choice (BE) : The Last of Us

The Toronto Star (CA) : The Last of Us

Destructoid (US) : The Last of Us

Destructoid Readers' Choice (US) : The Last of Us

Dork (BR) : The Last of Us

Madison 77 Square (US) : The Last of Us

The Nerdist (US) : The Last of Us

GamAlive (FR) : The Last of Us

GamAlive Readers' Choice (FR) : The Last of Us

Varvat (SE) : The Last of Us

VGW (US) : The Last of Us

Giant Bomb (US) : The Last of Us

Furious Fanboys (US) : The Last of Us

XXL Magazine (US) : The Last of Us

Penny Arcade (US) : The Last of Us

Tyler Morning Telegraph (US) : Super Mario 3D World and The Last of Us

Baixaki Jogos (BR) : The Last of Us

htxt (ZA) : The Last of Us

Cape Breton Post (CA) : The Last of Us

News10 Gamers' Choice Awards (US) : The Last of Us

India TV (IN) : The Last of Us

Sound on Sight (CA) : The Last of Us

FinalBoss (BR) : The Last of Us

Gamereactor Norge (NO) : The Last of Us

The Koalition (US) : The Last of Us

Gamespresso (US) : The Last of Us

We Got This Covered (US) : The Last of Us

EGM Readers' Choice (US) : The Last of Us

Atlantico – Playerone.tv (FR) : The Last of Us

Eurogamer.net Readers' Choice (UK) : The Last of Us

Game Sênior (BR) : The Last of Us

AreaGames (DE) : The Last of Us

Akihabara Blues (ES) : The Last of Us

Kotaku (US) : The Last of Us

Kotaku Readers' Choice (US) : The Last of Us

Gloucester Citizen (UK) : The Last of Us

CGMagazine (CA) : Grand Theft Auto V and The Last of Us

Better With Popcorn (CA) : The Last of Us

CalmDownTom (UK) : The Last of Us

Front Towards Gamer (US) : The Last of Us

Pardis Game (IR) : The Last of Us

INFO (BR) : The Last of Us

Gamereactor Danmark (DK) : The Last of Us

TheSixthAxis (UK) : The Last of Us

TheSixthAxis Readers' Choice (UK) : The Last of Us

Videogamer (UK) : The Last of Us

Telegraph (UK) : The Last of Us

Gamereactor Suomi (FI) : The Last of Us

InTheGame Readers' Choice (NL) : The Last of Us

Hobby Consolas (ES) : The Last of Us

3DJuegos (ES) : The Last of Us

Eurogamer.dk (DK) : The Last of Us

Gamereactor UK (UK) : The Last of Us

Gamereactor PT (PT) : The Last of Us

InsideGamer Readers' Choice (NL) : The Last of Us

4Players (DE) : The Last of Us

4Players Readers' Choice (DE) : The Last of Us

VentureBeat (US) : The Last of Us

carbonated.tv (US) : The Last of Us

Did Not Finish (US) : The Last of Us

Eurogamer.pt Readers' Choice (PT) : The Last of Us

DarkZero (UK) : The Last of Us

GamersGlobal (DE) : The Last of Us

IGN España (ES) : The Last of Us

Game Generation (BR) : The Last of Us

GamesBoard.pl (PL) : The Last of Us

PressFire.no (NO) : The Last of Us

Play Legit Readers' Choice (US) : The Last of Us

The Gamer Access (US) : The Last of Us

USA TODAY (US) : The Last of Us

NoobFeed (BD) : The Last of Us

Brasilgamer Readers' Choice (BR) : The Last of Us

Gaming Union (UK) : The Last of Us

Only Single Player (US) : The Last of Us

GeekNation (US) : The Last of Us

3DNews (RU) : The Last of Us

OmniGamer (US) : The Last of Us

BootHammer (US) : The Last of Us

CeX (UK) : The Last of Us

Gamers Haven News (US) : The Last of Us

Gamefa Readers' Choice (IR) : The Last of Us

Chillopedia(PK) : The Last of Us

GameCity Schweiz Readers' Choice (CH) : The Last of Us

WorthPlaying (US) : The Last of Us

PunchDrunkGamer Inc. (US) : The Last of Us

Population GO Readers' Choice (US) : The Last of Us

Joystiq (US) : The Last of Us

GotGame (US) : The Last of Us

GameTrailers (US) : The Last of Us

Game4Anything (UK) : The Last of Us

Ginx TV (UK) : The Last of Us

Gamers Heroes (US) : The Last of Us

Combo Caster (PT) : The Last of Us

Analog Addiction (US) : The Last of Us

NG4A (SA) : The Last of Us

Gamecca Magazine (ZA) : The Last of Us

Skewed and Reviewed (US) : The Last of Us

MMGN Readers' Choice (AU) : The Last of Us

ITF Gaming (ZA) : The Last of Us

Amazon Readers' Choice (US) : The Last of Us

G33KPRON (CA) : The Last of Us

Game Informer (US) : The Last of Us

Game Informer Readers' Choice (US) : The Last of Us

Metacritic Readers' Choice (US) : The Last of Us

Game*Spark Readers' Choice (JP): The Last of Us

Multiplayer.it Readers' Choice (IT) : The Last of Us

Gamer Horizon (US) : The Last of Us

Игромания (RU) : The Last of Us

The Escapist (US) : The Last of Us

The Escapist Readers' Choice (US) : The Last of Us

IGN (US) : The Last of Us

IGN Readers' Choice (US) : The Last of Us

DarkStation (UK) : The Last of Us

VG247 Readers' Choice (UK) : The Last of Us